Will Grayson, Will Grayson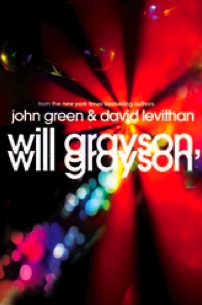 So, the special lady in my life is a teen librarian, which is to say she is an adult who specializes in library services for teens, not that she is a teenager who is also a librarian. This is important because it means that she gives me impromptu reviews of a couple hundred books a year, and also because it means that I sometimes get to meet interesting people and see interesting things that would otherwise be limited to teenagers or weirdoes.
A couple of weeks ago, this meant going to the LA Times Festival of Books at UCLA, where I was dragged to a panel featuring the two authors of this novel, John Green and David Levithan, who completely sold me just by being so damned amusing. After listening to them talk about life and writing and profanity and everything else they could fit into an hour, I had no choice but to immediately read their newest book, Will Grayson, Will Grayson. (I believe some are calling it "double-you, gee, squared.")
The story appears to be focused on two teenage boys in the Chicago suburbs, both named Will Grayson, who meet in the strangest imaginable coincidence. But, by the time you are two-thirds of the way through the book, it becomes clear that they are both supporting characters for Tiny Cooper, the world's largest and most creative gay teenager, whose epic musical about himself and the thinly disguised Phil Wrayson is going to revolutionize high school theater.
I loved this book. It's honest, heartfelt, and one of the funniest things I've read in a long time. I worry that its myriad references to modern technologies and trends may make it feel dated in the future, because the characters feel so real, and their relationships are so truthful that I could easily see this book becoming a sort of underground "Separate Peace," once it receives its inevitable bans from school libraries across the country.
It's hard to say what this book is about without giving away some major plot points. But, I can't recommend it highly enough. A really stellar book that fits absolutely perfectly in our changing society. It talks about problems and needs and love and friendship in a way that never feels forced or contrived. An outstanding offering from these two much-beloved authors.