The Question V1 - Zen and Violence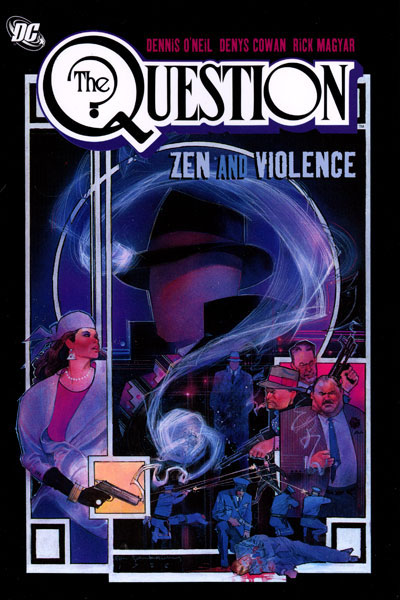 Based on a recommendation from Darren at Skylight Books, my favorite independent bookstore, I picked up this little gem from 1987. Back in print since 2007, The Question, by O'Neil, Cowan, and Magyar, takes place in the DC Universe in a town called Hub City. The series follows the life of The Question, a night-time vigilante in the spirit of Batman, and day-time freelance journalist Vic Sage.
While the comic throws a battery of genre clichés at you, it's still a very entertaining read with a protagonist who gets more and more interesting, and a few bad guys that you really want to learn more about.
My only complaint is that the first 80% of the book takes place under a consistent story arc, and the last chapter feels like it dropped out of the sky. Not the best way to end a trade. If it made sense to just collect the first 4 issues, they should have done it.
All in all, a good read. Unfortunately, I don't see this title stocked at many shops, so it may be a while before I have a chance to get V2 and V3.