Solomon's Thieves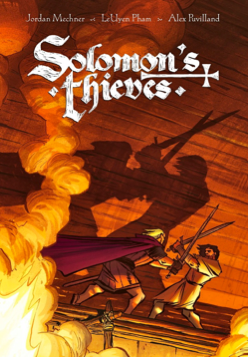 Based on the strong recommendation of my personal reader's advisor, big-mouth librarian, and graphic novel maven, I took the time today to read Solomon's Thieves, by Mechner, Pham and Puvilland, a truly engrossing and beautifully illustrated title that gives a new variation on the story of the last days of the Knights Templar.
History is rich with stories of the persecution, deserved or not, of the Templars, but this short graphic novel, told from the point of view one honest man of the Order, gives new life to the legend and shows modern audiences that theirs was a tale worth telling.
Solomon's Thieves is the story of Martin of Troyes, who, after returning from his duty protecting the Holy Land, finds himself in a bad situation. Regional leaders in both France and England have turned on the order of the Templars, imprisoning them, taking their property, and eventually torturing and exterminating them. He is left with the dregs of a once-proud brotherhood, the desire to right a wrong, and vengeful-yet-pious need to protect the treasure of the Templars.
Written as an exciting three-part historical fiction, with strong characters and plenty of action, Solomon's Thieves is more than worthy of the attention that it is getting. And the detailed art style is both vibrant and moody. I highly recommend it.