Sneaky uses for everyday things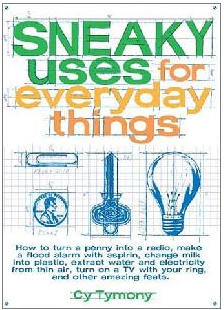 Tiny Librarian went to Washington, D.C., and in order to make me infinitely jealous, she went to the International Spy Museum. While she was there, she got me some secret stuff (which I shall never divulge), but also this super cool book that takes me back to the old days, when I wanted to be a spy: Monday and Tuesday, most recently.
Cy Tymony's "Sneaky uses for everyday things" is the first of a trilogy of books which tell you how to do very interesting things with stuff you find around the house, from foil and string to milk and vinegar.
Within this slim volume are nifty tricks for security, surreptitious listening, broadcasting, and even survival. Imagine a slightly more urban version of the Boy Scout Manual, and you're on the right track.
This book is a great read and full of fun projects for anybody who likes DIY, espionage, or just knowing things that you aren't supposed to know. I read it cover-to-cover in a couple of hours, and I am eagerly awaiting the opportunity to make use of some of the tips it contains.