Please - Fiction inspired by the Smiths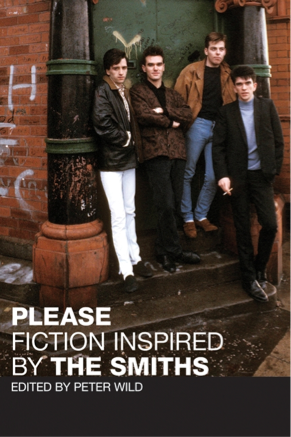 I suppose that anyone who knows me also knows that I love The Smiths like a fat kid loves cake. (I also love cake, as fate would have it.) So, Peter Wild's "Please - Fiction inspired by The Smiths" was an easy and obvious birthday present from my sister-in-law type person. Despite being no lover of short story comps, I had been excited about the book since I first heard about it several months ago, so it was a very welcome surprise when I received it.
The book consists of 24 stories that take a Smiths song title as their jumping-off point. With only one exception, the Sweet and Tender Hooligan chapter, the collected works avoid a too-literal interpretation and instead use the songs as simply idea-kindling, or tools to create a mood.
It would take far too long to go into much detail about so many stories, but I will say that they are of extremely varied styles and genres. Personally, I most enjoyed the humor in the pieces by Mike Gayle (regarding a fledgling author who sells out his friends for a successful book), Matt Beaumont (regarding an invitation to participate in a new Duran Duran-themed collection of short stories), and the editor, Peter Wild (which details the amazing changes brought about by a new political paradigm).
There was also some genuinely unique, haunting work by Helen Walsh, in her chapter on There is a Light, and Catherine O'Flynn's weird, difficult take on You've Got Everything Now. Jeremy Sheldon's Nowhere Fast was also a great read, beginning in a sort of dark humor about the gap between generations, and descending into an examination of how we fall victim to the strangest desires and weaknesses.
All in all, I found the collection to be quite well-done, overlooking a few overly worded, aimless pieces that will go unmentioned. One need not have any outside information about The Smiths to get something from the prose within, but if reading a story collection can get you interested in these Manchester lads, it will not be time wasted.