The Investigation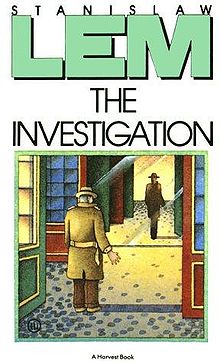 Picked this one up on a whim while I was at Skylight Books in Los Feliz. They've created a nice section for "speculative fiction," that is filled with intellectual sci-fi. I assume that this book was crammed in there because Lem made a name for himself with science fiction. But, this is more of a weird detective story.
The story concerns a Detective Gregory of Scotland Yard who has been assigned to a bizarre case by his equally bizarre chief. It seems that corpses have been disappearing, or at least attempting to, from the mortuaries in London's neighboring villages. Sciss, the statistician assigned to assist him in cracking the case only confuses things with his seemingly nonsensical ramblings about things as meaningless as cancer rates, ambient air temperature, and recent UFO sightings.
By the end of the novel, it's really impossible to figure out what is going on, and the reader is left with this odd feeling that, like Gregory, he has been manipulated by a higher power. The book's overall sense of the unknown is constantly compared to the low-grade paranoia inherent in almost all of Kafka, but, to be honest, I believe it finds a closer cousin in the X-Files, where a cop with the best of intentions is misled by the people who are on his side, confused by the best evidence, and eventually left lost because of the hard work he's put into the case.
As a bonus, he has recently rented a room in a house where the landlords would be equally well-loved in the works of Monty Python or David Lynch.
All-in-all, I really liked the book, and was quickly drawn into the mystery aspect of it. Discussions of topics as unimportant as mutually assured destruction, the Gaussian curve, and the possibility or resurrection make for fascinating intellectual exercise, but not for great mystery fiction. It's not Raymond Chandler at all. It's something both worse and better.