Futurama / Simpsons: Crossover Crisis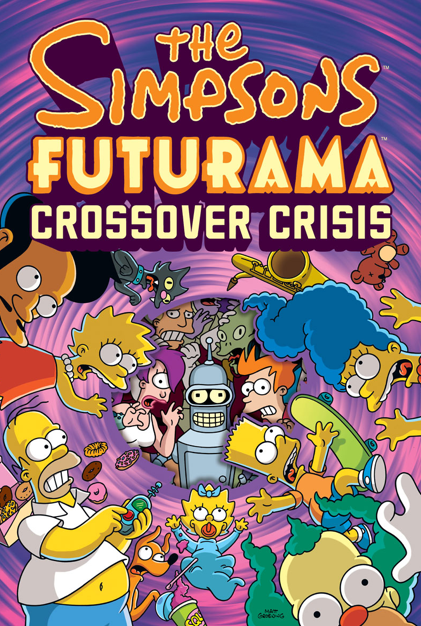 I probably would not have bought this title, because I haven't been following the Simpsons or Futurama in comic form. But I've been a fan of both series for a very long time. Luckily, my significant other received a super-deluxe mega-awesome copy from the publisher for review.
I guess the first thing you realize reading this title is that it's more like a storyboard for an episode of either show than it is a stand-alone comic. This is probably okay, since it's impossible for me to read the dialogue without hearing it in the voice of the characters with which I am familiar.
While I did enjoy the gags and general silliness, I have to admit that the whole thing is seriously contrived - an attack by a race of brains (you may remember the episode where they were powerless against Fry because he lacks a common brainwave) leads to the release of all fictional characters into the real world. I told you it was hard to swallow, didn't I?
Anyway, the Planet Express crew, with the help of our favorite yellow family are called upon to set things right. A fun, if ridiculous, adventure that's clean enough for kids, and funny enough for fans to enjoy.
Bonus: the hardcover deluxe edition has dozens of pages of interesting end-matter, including scene development sketches, and alternate covers or poster art from top comic artists. The best, by far, is Alex Ross's cover for Radioactive Man.