Chew Review - It's true.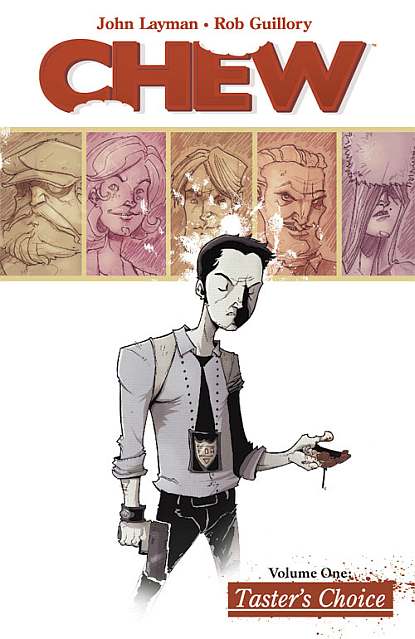 I'm terrible about managing my singles. I used to do the subscription thing, but it gets out of control, and eventually they always cancel me. Plus, when you're on subscriptions, you start to see that you're making the shop owner's car payment.
As a result, I am constantly picking up ish Ones and ish Twos, falling in love and completely forgetting what I'm collecting and where I am the next time I hit Meltdown. Luckily, so many titles are coming out in trade/graphic novel format as soon as they hit ish Five that I have some small chance of staying kind of current.
A recent acquisition, thanks to the help from my well-connected and much-more-talented better half, allowed me to find out what happened with Tony Chu, whom I last remembered eating a decaying finger several months ago. Fresh out in trade paperback, issues one through five of Chew, by John Layman and Rob Guillory, are now available for your perusal and enjoyment.
I can't be adequately adulatory concerning Layman's creativity. He's taken the CSI genre to new heights (maybe depths is a better word here) by inventing an entirely new superpower: Cibopathy - The ability to tell everything about a food's history just by tasting it. Set in an alternate America, where the FDA has banned poultry, and the war on Foul has made them the most powerful government agency, Chew is not only a satire of the conspiracy genre, it's also a clever send-up of the crime drama and the supernatural hero.
Guillory is definitely a name to watch, as well. His artwork is vivid, original, and absolutely perfect for this project. It rests on the knife's edge separating comedy from drama, and in one frame can show violence, fear, slapstick and the visions of a psychedelic freakout all at once. His exaggerated proportions, mixed with deft draftsmanship and impeccable motion work create a very strong pairing with Layman's imaginative scenario. The book simply wouldn't work without Guillory's inventive viewpoint.
In short, Chew is an essential graphic novel purchase for 2010, and belongs on your short list next time you hit the comic shop. It's funny, disgusting, exciting, and completely unpredictable.